Hypixel Lobby
(IP: mc.hypixel.net)

Hypixel Lobby is Hypixel's server hosted by MC Pro Hosting. It is an extremely large server and has the following features: Main Lobby, Adventure Lobby, Paintball Lobby, Blitz Survival Games, The Walls, The TNT Games, VampireZ, and the VIP Lobby. The VIPs can have access to a few more adventure maps in the Adventure Lobby, and also go into the VIP Lobby. Also, there are custom achievements in this server. The maximum amount is 13000 people. Also it is recommended to use the resourcepack: A'thery's Ascended.
Main Lobby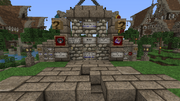 The Main Lobby is where you spawn. It has very few features and is the only place where you can access all the portals. Also there are some parkour features.
Adventure Lobby
This place is where you play adventure maps with people. It has many signs and each of them has a name of an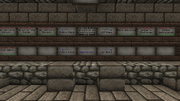 adventure map on it. A few adventure maps can only be played by VIPs, including Death Sentence, Wither's Challenge, and Zombie Apocalypse. You can queue up as solo or as a party using /party help.
Paintball Lobby
The paintball lobby is where you can play paintball warefare with friends. At the game, you can throw paintballs(snowballs) to enemies. Allies have the same head color as you, and enemies have a different color. Press F5 to check your head.