Server
(IP: www.skydoesminecraft.com)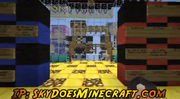 Sky army's server is a huge world, of course, made by many recurits of Sky Army. There is a handmade tile floor and handmade pixel-art outside. There are a total of 5 areas in this server: the Faction World, the Survival world, and the Parkour and Games World.
The Lobby
The lobby is the spawn room for users. Outside the room, you can find some pixel-art of Sky-Army and a handmade tile floor. Also you have access to the 4 rooms (5 rooms for VIPs).
The Faction World
Here, in the Faction world, you can grief whatever you want. Also, you can set up your own shop. Outside the world, (and after the sky Statues)you are pvp-free. But after you go beyond the dirt marker, you are not pvp-free.
The Survival World
The Survival world is a wooden hut made by 
Deadlox
. You are also free to grief.
Parkour and Games World
The parkour and games world is a place that contains parkour and games. The parkour and games world has a butter Spleef arena, and Parkour Maps by Tetrix 1993 (TPFparkour, T3C parkour).
The VIP World
The VIP world is a world that you can make creations and then Sky Army will take them to the lobby. Also you can claim your own plot by /plotme claim.
Donated Perks
A normal VIP needs $5 to go into the VIP world. You get 25k butter. (You can spend it on the Faction World Shop.)
Commands: 
/slap 
/hat
An advanced VIP costs $10.
Commands:
/NickName
/Fly