SquiddoesMutant
SquiddoesMutant is an anti-butter boss of the derpy squid mod. He has 
Skydoesminecraft
's face and shoots explosive anti-butter blasts. He is an upgrade of 
Squiddoesminecraft
 and only appears after you kill him.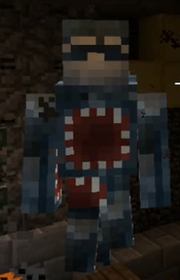 Quotes
"Hahaha, hahaha. Did you really think it would be that easy? Fool. You dare challenge me in my domain? Feel the wrath of my anti-butter blasts!"
"Haha, see if you can dodge this one!"
"Oh, god, oh god, that hurts, ah, AAAAH!!!"